Inspiring school on the wrong side of the tracks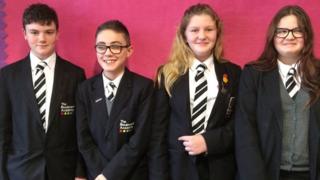 Where children grow up has a far greater impact on their education than it did 30 years ago, according to analysis by the centrist think tank the Social Market Foundation.
It examined a wide set of results, including verbal reasoning tests, done by 11-year-olds enrolled in two major studies.
For both sets of children, the parents' socio-economic background was the most significant factor.
For those born in 1970, according to the authors, it didn't really matter where in England they were born and grew up – but for those born in 2000, regional difference had become "a more powerful predictive factor".
In 1970, being from an ethnic minority was a disadvantage: today the picture is more mixed, with some minority groups, like Chinese or Indian children, doing better than average.
Ofsted has warned of the regional variation for several years: in 2013 chief inspector Sir Michael Wilshaw described it as "unacceptable".
There is considerable difference between regions at GCSE. Last year, 72% of pupils in London achieved grades of A* to C, compared to 65% in Yorkshire and Humberside.
Identifying causes
Identifying the cause of the variation is difficult. London schools benefited from the so-called "London Challenge", put in place by the Labour government, which encouraged schools to work together and improve practice.