NHS still missing many key targets in England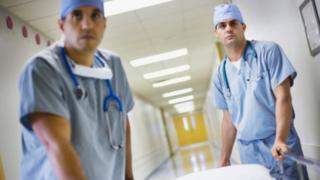 Hospitals in England continue to miss many of their waiting time targets, official figures for November show.
Ambulances, the 111 phone service and cancer services all missed key targets.
And A&Es only managed to see 91.3% of patients in four hours – the worst performance in November since record-keeping began in 2010.
Meanwhile, the six-week target for diagnostic tests to be done was missed. It is now two years since it was last met.
Significant problems were also being experienced by hospitals in discharging some patients. There were over 153,000 days of delays, the second highest on record. Delays are experienced when there are not the community services available to care for vulnerable patients who are medically fit to leave hospital.
But hospitals did manage to hit their 18-week waiting time target for routine operations, such as hip and knee replacements.
Hospitals have been struggling with many of these targets for the past year or so – and similar challenges are being experienced by the health systems in Scotland, Wales and Northern Ireland.
The November figures released by NHS England showed:
The NHS in winter: Want to know more?