Teacher shortage means pupils travel to other school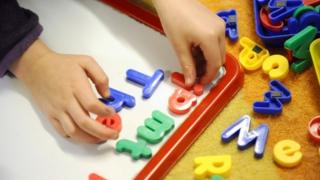 Pupils in a primary school in Yorkshire will have to travel to another school for part of each day because of difficulties in recruiting a teacher.
Easington Primary Academy pupils will be driven to another school for morning lessons in literacy and numeracy.
The school said a long-term supply teacher had left earlier than expected and a replacement could not been found.
Head teachers' organisations have been warning that a shortage of teachers is a "crisis" for schools.
From this term, pupils in Years 5 and 6 at Easington will have to travel to Patrington Primary Academy for the morning, returning to their own school after lunch.
Preparing for tests
Patrington and Easington are part of the same academy trust and share an executive head teacher.
A statement from the trust said:
Easington had been unable to find a permanent replacement for a teacher who had left last summer
The supply teacher brought in as a temporary replacement had now also left
Supply agencies had been unable to provide another suitable replacement
"A great deal of thought has gone into how the academy can best meet the needs of the pupils, especially for Year 6 pupils who will be taking Sats [national curriculum tests] in May," said the William Temple Academy Trust.
"We recognise that this means more change for the Easington Years 5 and 6, but we have no option.
"We hope that being taught by the class teachers at Patrington will provide more consistency for the pupils than a succession of supply teachers for a couple of weeks at a time."
A meeting for parents to discuss how the arrangement is working is planned for later this month.
Last month, head teachers warned MPs on the Education Select Committee of a deepening "crisis" in recruiting and retaining teachers.
The National Association of Head Teachers said 59% of schools advertising for teachers "struggled" to get applicants and a further 20% failed completely to appoint anyone.
Teachers' recruitment expert Prof John Howson told the MPs the current teacher shortage was the worst since 2001-02.
The Department for Education responded by saying there were now 13,100 more full-time equivalent teachers than in 2010 and "number and quality of teachers in our classrooms is at an all-time high".